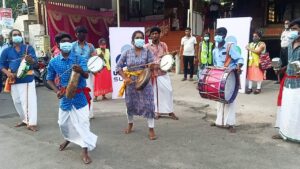 On Nov. 10, Urbaser Sumeet, the private agency appointed by Chennai Corporation began conservancy operations in the entire Mylapore neighbourhood.
As source segregation is its main focus, the agency is now holding awareness campaigns to promote the same.
On the day one of its operations, on Tuesday, representatives of the agency held awareness campaigns at Rohini Gardens in R.A.Puram and at Mada Streets around Sri Kapaleeswarar Temple.
To draw people's attention, the agency also got artists to perform traditional artforms like Thappattam, Oyilattam and Parai.
Said an official attached to Urbaser, "Many people are unaware of source segregation. Hence, we are creating awareness on it by visiting various parts of the neighbourhood, one by one. We are using traditional artforms to spread awareness as many people like them."
"On Tuesday, we held campaigns at Rohini Gardens and at the Mada Streets in Mylapore. Our campaign started with Thappattam, Oyilattam and Parai performance, after which we went on to explain our operations."
"During the campaign, we educated the residents/ shopkeepers about source segregation. We also gave examples of wet and dry waste to make them understand the process".
He says that they have asked shopkeepers and hawkers of Mada streets to put two separate bins for wet waste (vegetable, fruit waste) and dry waste (paper, plastic, PET bottles) so it will be easy for them to handover it to BOV (Battery operated vehicle) operators when they arrive, for garbage collection.
The garbage collection will take place separately at every shop/hawker stall, daily from 2 pm to 10 pm, similar to how the door to door garbage collection takes place, the official says.
Meanwhile, the agency is also regularly meeting Resident Welfare Associations (RWAs) to inform them about its operations.
Picture courtesy :  Urbaser Sumeet