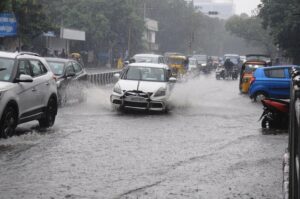 There are a few roads and streets in the Mylapore zone which hold sheets of water when it rains steadily and it takes some time for this water to drain off.
One such place is a section of San Thome High Road, from the CSI St Thomas Tamil Church end to the Registration Office end.
This morning, this road section was full of rainwater and it took some time for it to drain off.
Over the years, the civic body has relaid drains and repaired some to prevent flooding but today's scene shows that a proper solution has not been found.
Some inner streets of this neighbourhood also witness flooding – solely because the drains are absent or they are  not able to drain off the rainwater quickly.