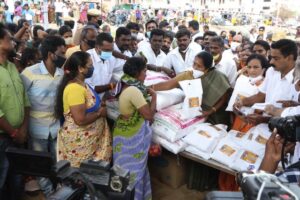 The AIADMK as well as the BJP political parties have reached out to residents in the kuppam zone tenements of the Marina who were affected by cyclone Nivar.
Two days ago, on Sunday BJP leader Vanathi Srinivasan along with state-level colleagues were at the Nochikuppam area to hand over dry food stuff to some 500 families.
Earlier, the AIADMK's O. Panneer Selvam, who is also deputy chief minister and his local area cadres had visited this area and distributed relief materials.
While fishermen could not put out to sea for three days and may have to do the same in the cyclonic weather this season, fisherwomen hawkers have not been able to sell fish locally on the Loop Road when Nivar had its effect locally and on days when the fish catch is meagre.