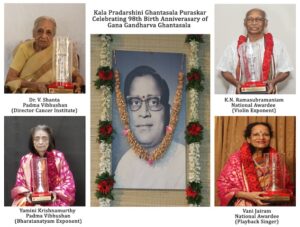 December 4 marks the 98th birth anniversary of the music legend Ghantasala Venkateshwar Rao.
Ghantasala's daughter in law, Bharatanatyam dancer and teacher, Dr. Parvathi Ravi Ghantasala has been paying tribute to him through her not for profit trust Kalapradarshini.
Each year, she has been curating a dance programme that epitomises her father in law's music.
The Trust also honours individuals who have made exceptional contributions in the field of music, dance and philanthrophy with the Kalapradarshini Ghantasala Puraskar award.
This year on December 12, the Ghantasalas will be honouring the memory of the music legend with an online tribute and will be awarding the Kalapradarshini Ghatasala Puraskar to four awardees this year – Dr. V Shanta (Cancer Institute, Adyar), singer Vani Jayaraman, classical dancer Yamini Krishnamurthy and musician K.N. Ram Subramaniam.
This will be followed by video broadcast of the performances of various artistes to the maestro's songs. The event will premiere online at different time zones on Saturday, December 12 2020 at 8 p.m.
For further information about the event contact 9600078677/ 9840157090