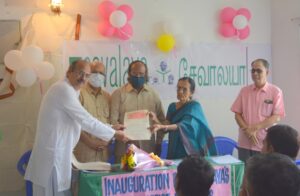 Well-respected voluntary organisation Sevalaya which is works in Thiruninravur has obtained its own administrative office premises in the city, made possible by the magnanimity of Lakshmi Venkatraman, freelance writer and art critic.
Lakshmi has gifted her apartment in Alwarpet worth Rs.2 crores to Sevalaya. The new office is a 3BHK apartment located in Pushkarni Apartments on Ananda Road, Alwarpet.
The formal hand over was held this Dec.25 morning. The guests of the event were R Nataraj, Mylapore MLA, Lakshmi Venkatraman, A. Chandrasekharan, advocate and N Srinivasan, chartered accountant and secretary of the campus welfare association.
Sevalaya's Muralidharan welcomed the gathering. Lakshmi Venkatraman handed over the house deed to Murali and expressed her happiness at helping what she said was a good NGO to continue its services.
The chief guest R Nataraj, MLA, praised Sevalaya and Muralidharan  praised the role model that this NGO had played in reaching out to the less enabled in the community.
P. Prasanna, VP – donor relations, Sevalaya, proposed a vote of thanks.