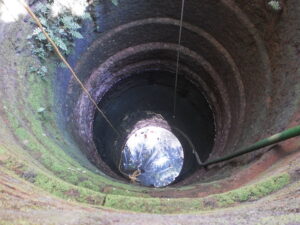 The groundwater across Mylapore zone has increased following appreciable rains the past many weeks. And one expert wants to record the levels across the city and seeks the inputs of Mylaporeans.
Shekar Raghavan of the Rain Centre which used to be based in Mandavelipakkam and is now in Gandhi Nagar, Adyar says he is recording the levels f ground water for studies that help conservation efforts.
Shekar says groundwater is available in two discontinuous layers – Shallow and Deep – separated by hard rock. The shallow layer is tapped through open wells and gets replenished during monsoon every year and hence a sustainable source. The two good spells of rain received by Chennai during late November and early December has pushed up the groundwater level to almost 7 to 8 feet below ground level.
Shekar now wants residents who have or know of local open wells to note down the water level in the open well (by peeping into it) either using a tape or visually ( note the level only from the ground base level) and send this info through email to – sekar1479@yahoo.co.in or through WhatsApp to 88381 21040 (Venkat).