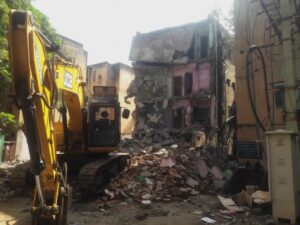 Demolition of the aging residential blocks of TN Slum Clearance Board at Vanniyampathi in R. A. Puram has begun.
Almost 300 families who resided here for over four decades moved out over the last 4/5 months and the last of them vacated in early December.
The Board intends to raise new residential blocks of apartments to re-house the families who had to vacate and have rented spaces in the neighbourhood and outside.
Similar re-development has begun in another area of R. A. Puram where the Board had tenements.