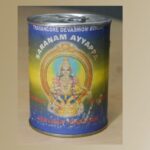 To help devotees who are unable to make their annual pilgrimage to Sabarimala Temple, due to pandemic time restrictions, Department of Posts recently introduced a new service through which you can get Sabarimala 'swami prasadam' door delivered to your house.
The service is now being offered at Mylapore Head Post Office on Kutchery Road. Devotees can book the 'prasadam' from this post office by paying Rs 450.
Each pack of the prasadam will contain one packet of aravana payasam, ghee, vibhooti, kumkum, turmeric and archana prasadam.
Said a staff at the post office, "The prasadam will reach devotee's doorstep via Speed Post and it takes only a few days from the time of booking."
The post office is open from 10 am to 6 pm. Ph: 24642805.
Picture used for representation only; Courtesy: religiousworld.in;