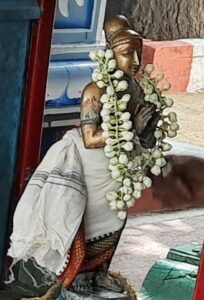 It was a delightfully blessed morning for Arunachalam gurukal, who has been performing service for 28 years. He performed the abhisekam on Wednesday morning to celebrate Vayilar Nayanar's mukthi on Margazhi Revathi at Sri Kapaleeswarar Temple.
And this was the first such event open for public darshan after the lockdown was imposed in the second fortnight of March. This is the first time that the HR & CE department has consented to the devotees witnessing the abhisekam during an utsavam.
Poonamalee Uyir Thuluva Velala Marabinar Sangam, an organization formed in 1946 that has over 750 people as its members, has been organizing the abhisekam over the last three decades for Vayilar Nayanar at this temple.
V K Shankar, secretary of the association says that people from 18 villages around Poonamallee are part of this Sangam. He was pleased that the HR & CE permitted the Abhisekam for public darshan.
"Our forefathers had been the trustees of the temple and one person from the Mudaliar community continues to be on the board of the temple. As this Nayanmar belongs to Mylapore, we were keen that the temple consider our request to permit this abhisekam for public darshan."
Adiyars from across TN including those from Madurai, Erode, Bhavani and Erode were present for the abhisekam.
Sivaraj, an adiyar, who quit a corporate job in Dubai to present the sacred verses of the saint-poets during the celebrations of the 63 Nayanmars was here from Madurai this morning.
He says that 20-30 of the Adiyars congregate at each of the Mukthi Utsavams of the 63 Nayanmars at their respective Mukthi locations.
"As Vayilar Nayanar belongs to Mylapore, our group of 30 Adiyars congregated here this morning to narrate the story of Vayilar Nayanar from the periya puranam. We will also be presenting the sacred verses during the pushpa pallaku procession this evening."
Also, present on the occasion was Ramanan Othuvar who has been at the Chidambaram temple for the last 12 years. During the hour-long abhisekam at the Vayilar Nayanar Sannidhi, Kapaleeswarar Temple's Sargurunathan Othuvar presented 20 verses from the Thiruvempaavai.
Vayilar Nayanar belonged to the Saiva Vellalar community. He was keen to build a temple for Lord Shiva but hailing from a financially poor farming family, he did not have the financial wherewithal and his wishes could not be fulfilled.
In the Periya Puranam, Seekizhyar describes the greatness of this devotion of Vayilar Nayanar. Through great devotion, he visualized each day the construction of a temple for the Lord and the performance of abhisekam.
Later this evening, just after 6pm, there will be a pushpa pallakku procession of Vayilar Nayanar within the temple complex.
Report and photo – S. Prabhu