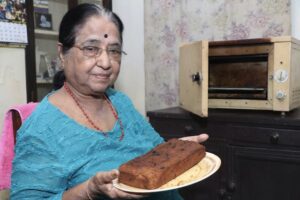 These are two 'must do' things at Christmastime for Leith Castle area resident Vimala Padmaraj.
Post greetings cards to family and friends with a handwritten message in them. And make at least two snacks to offer neighbours and guests.
This year, Vimala who spent last winter with her son in Canada and bought a lot of greeting cards there, used what was left of them to tick the first in her 'must do' list.
Last weekend, she then turned to her cooking time table. First, to make the rose cookies. Next, the murukku. And finally, bake cakes.
Baking engages this senior who is a active member of the San Thome Cathedral community.
She has an old Racold baking oven she bought off a departing French woman which has survived the wear and tear of many decades.
"I used to bake a lot when the children were around," says Vimala. "But now, I turn to it at Christmastime or when I feel like working extra in the kitchen."
This year, Vimala chose to make small quantities of the Christmas goodies because the guests would be limited.  But she took time off to carry a pack for the staff at the local bank across San Thome High Road where she banks.
"I don't like the idea of buying stuff at stores," she says. "I like making snacks at home."