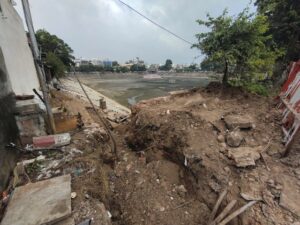 Civil work is going on at the south west end of the tank of Sri Kapali Temple in order to improve the flow of rainwater into the tank.
Chennai Corporation's team of workers are undertaking this job and have excavated the area where the drain and pipe that channels the floodwaters flowing through the drains on R K Mutt Road, South Mada Street and Venkatesa Agraharam Street.
The intention is to set in a bigger pipeline that will quickly empty flood water into the large tank.
Said a Corporation official, who manages civic activities in this area, "A stormwater drain (SWD) that passes near the tank was emptying rainwater to a sewer network. We wanted to avoid wasting that water. Hence, we are laying a new pipeline to divert the rainwater collected in the SWD to the temple tank."
Incidentally, a recently constructed system of drain and pipelines of carrying floodwater on East Tank Street into this tank has borne results.
However, just days after the heavy rain in the Nivar cyclonic weather when large volumes of water flowed into this tank, the tank is now almost dry and people have been wondering again as to how so much water disappears do quickly.
Obviously, the large number of bore-wells in the temple tank zone suck up all the ground water even as it sinks down inside the tank and recharge the ground. As is the case in the Chitrakulam.