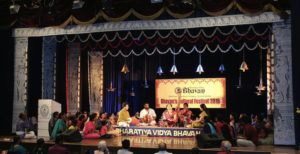 R. A. Puram-based V. Sriram, a historian of Carnatic music and of Madras city will present an illustrated talk that ties in with the onset of the famed December Season of music and dance in the city.
The theme of talk is – 'Search for a suitable venue : The story of Carnatic Music in Madras'.
This talk which is to be webcast is on Friday, December 4, starting 6:30pm and is open to all.
Sriram, in his pre-talk note on the subject says that since the time Carnatic music began to flourish in Madras in mid-18th century, hosts of concerts kept looking for venues for performances and these kept changing these over time – from groves to open grounds to private halls. And this development, besides the technology employed by concert organisers and artistes have impacted on this performing art over the decades.
The talk will trace the journey of Carnatic music down the ages.
The talk will be web-streamed on the YouTube channel  of Intach Chennai Chapter.