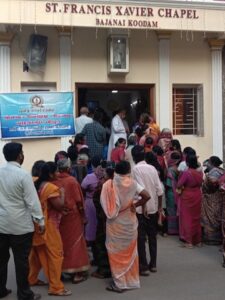 Members of the St. Lazarus Feast Trust based in the Lazarus Church Road zone arranged for the donation of dhotis and saris to some 200 poor people on the eve of Christmas.
This is an annual event of the Trust which consists of members whose forefathers who had settled here and curated and conducted the annual feast of saint Lazarus in January, another tradition that has been followed for decades and is held in a grand manner at the local church.
Fr. Bosco, parish priest of Our Lady of Guidance Church presided over the donation event.
Says S. Thiribieus Raj, who heads the Trust and whose grandfather was one of the founding fathers of this private body of Catholics,"The Trust and its members raise funds to conduct the saint's feast and make this Christmas donation every year."
The Trust functions from the St. Francis Xavier Chapel, which stood on a private plot close to the church and was rebuilt in 2017.
There is an altar and space for prayer on the ground floor and a meditation / meeting hall on the first floor.