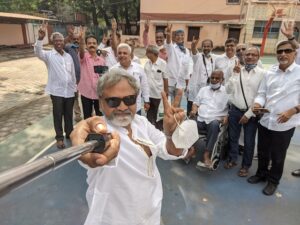 A small bunch of people who belong to the class of 1975 of P. S. Hugh School, Mylapore got together to visit their 'old' school on December 26, to chat, rewind to their school days and meet the school's management.
30 of the 'old boys' made it to this get-together and some of them were on campus after 45 years.
The group met Dr K V S Gopalakrishnan, who heads the school society management and Kala, headmistress of the school welcomed the group and chatted.
T G Shankar is the co-ordinator of the 'old boys' group and he gave mementos to the two.
Of the many alumni who have made a mark in life are musician 'Kunnakudy' Sekar who plays the cello for films and at Western classical music concerts, R. Hari who was national junior champ in table tennis and was a national player, B. Prakash, state table tennis player and V K Pandian who played for  the Indian Colts cricket team and for Tamil Nadu, alongside Krishamachari Srikanth
If you wish to connect with this group, contact T G Shankar 94459 36288 or
Viswanathan 98404 60700.