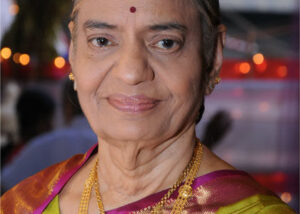 December 25 was a date to hold a signature event at the Bharatiya Vidya Bhavan for guru and founder of The Nandalala Seva Samithi Trust, late Mathioli Saraswathy – that day she would release a book or two of her writings.
This year, Nandalala Seva Samiti Trust in association with Karthik Fine Arts is releasing two books inspired and  drawn from her works. The books are 'THODARUM NESAM' (a collection of articles) and 'THAIMAI AMUDAM' (tips on parenting).
 "Mathioliyin Thodarum Nesam" will be an online event relayed live on YouTube on December 25 at 6 pm.
Guests at this event are Saptharishi La.Sa.Ra who will release the book. The first copy will be received by Villupattau senior artiste. Bharathi Thirumagan – she.will.also be performing a special Villupattu themed concert that evening.
– Report by Srividhya Subramanian