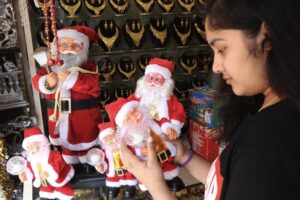 Shopping for the festival of Christmas is slowly taking place in the 'fancy' goods stores in Luz and Mylapore.
With less than two weeks to go for the annual festival, people were seen shopping in some shops in and off Luz Circle.
These shops offer a variety of buntings and decorative lights, decorations and stars, little Christmas trees and images of Santa Claus and stuff that can make little gifts for the season.
Since the complete relaxation of pandemic time regulations shopping in the retail zones is still muted. It did not pick up all around for the festival of Deepavali save for people who had to shop for new clothes.