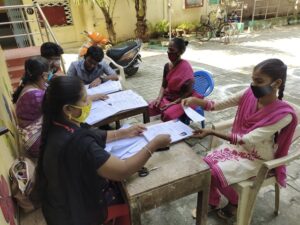 Voter ID Card camps are being held this weekend – December 12 and 13 – across the city and in the Mylapore neighbourhood.
These camps, on from 10 am to 4 pm allow you to apply for changes in the original card or for the issue of a new card.
The required forms are with the volunteers at the camp and you must fill the form and submit it with a few copies of documents asked for, and also a set of 2 passport size photos in some cases.
The camps are located in  all the local area venues for polling when elections are held – in Chennai Corporation schools / halls, private community halls, etc. within the zone you live in.
This will be the final set of camps for this purpose before the 2021 elections to the TN Assembly.
Photo featured here is of a camp at the GCC school on St Mary's Road, R A Puram