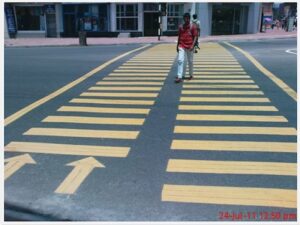 If Chennai Corporation manages to roll out its Mega Streets project for the city, then many streets and roads in the Mylapore area – Dr. Radhakrishnan Salai, C. P. Ramaswamy Road and around – will not only look smart but will boast of modern utilities.
In Mylapore zone, some 30kms of streets/roads are being brought under this of the seven packages that are being handled across the city.
And for starters, the pilot project will roll on C. P. Ramaswamy Road, from the traffic junction off Kauvery Hospitals to the R. A. Puram end.
The final design for this busy road is being firmed up by the Ahmedabad-based architects, Arya Architects.
On Wednesday, Dec.3 the architects had an online conversation with people who live on or off C. P. Ramaswamy Road and other community activists where the architects outlined the main features of the pilot project.
Topping the focus for the 'smart' road is to build underground channels to carry waste water, power/communication and other cables and wires and constructed only on one side of the road and with a series of chambers to access the utilities when required, so there is no need to dig up the road by various agencies.
Also, the focus will be to provide clear, well-laid pavements for pedestrians and for table-top crossings at junctions that slows down traffic and allows even elders to cross the road easily.
Other focus areas in the plans include substantial parking lots, protection of avenue trees and greening the area.
Says Megal Arya of the Arya team, "C. P. Ramaswamy Road's width changes at many places so designing for this will be a challenge."
Adds architect Tahaer Zoyab of Triple O Studio, Chennai which is the local architect collaborator for the Mylapore project, "Building the underground chambers will be our biggest challenge. We are working with TANGEDCO, Metrowater, Chennai Corporation, BSNL and private communication companies to ensure we get all these utilities into one channel underground."
Said B V Babu, Chennai Corporation's special projects chief, "Since we are looking at this project to serve us for over 30 years we are keen to have the best professionals plan and execute it."
Among issues raised by participants in the online discussion was the need to address heavy traffic movement at the flyover junction and on the road, hijacking parking by clients of local stores, playing down 'beautification' measures like setting up street furniture and the usefulness of converting space under flyover for community meet-ups and cultural displays.
Also, some people said that unless GCC acts against violators like encroachers and those who dump waste on streets and roads, 'smart' projects would fail.
The C. P. Ramaswamy Road project may roll out on the ground only mid-2021. Meanwhile, Arya and its team here continue studying and designing the streets and roads in the other parts of Mylapore that fall in this package.
Photo used here is for representational purpose