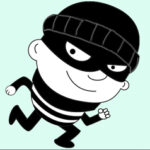 There seems to be a few conmen who have been calling up people, generally seniors saying they work for banks and trying to extract personal security information.
This has been the experience of a few Mylaporeans.
One Mylaporean says he got a phone call from a man who claimed he was Indian Bank manager, that he was offering a new ATM card and the caller asked for the old ATM card number for verification.
But since this Mylaporean doesn't have an Indian Bank account and he was aware of these fraud calls he managed to outwit the caller.
Another Mylaporean says she got a call on the landline and the caller person who rang up introduced himself as SBI Mylapore branch manager Vijayakumar and wanted to talk about arranging for an ATM card – the call got disconnected when the Mylaporean cut short the conversation.
In another instance, a Mylaporean admits he sent copy of Aadhar card, signed letter and photos to an address for bank account verification and after the person mailed it he began to get calls from people who claimed they were reps of one bank or the other and the Mylaporean realised he was being fooled.
In all cases, the calls from conmen were targetted at senior citizens.
– Report by Jayashree Sriram