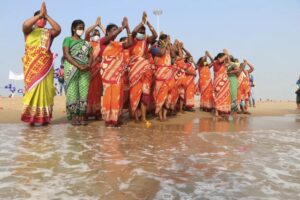 Over one hundred people, mostly women took part in the annual Tsunami Remembrance Day event organised by the Meenavar Peravai on the Marina this morning, December 26.
The event, marking the 16th anniversary of the tragedy was held on the sands off Srinivasapuram in Pattinapakkam where a small platform created from sand was set up and flowers  offered and candles lit here.
Then, a group of women walked up to the waterline, dropped flowers and raised their hands in prayer, seeking protection and security from the sea.
This event is held every year at this point of the seashore.