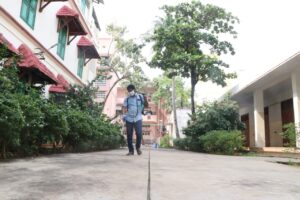 Following state-government's guideline, Sri Ramakrishna Mission Student's Home and Polytechnic College at P.S.Sivaswamy Salai, Mylapore resumed classes for its 3rd-year polytechnic students, recently.
And hence, about 150 polytechnic students have come back to the college hostel from their native places.
Besides, the campus also houses some 20 students of the Student's Home.
Varadharajan, PRO of Ramakrishna Mission Student's Home and Polytechnic college says that they are following all the pandemic time regulations to ensure the safety of students now.
He says, "Mask wearing and social distancing has been made compulsory for all students. Classes are taken for polytechnic students, following the standard operating procedures (SOPs) prescribed by the government."
"At the Mess too, we ensure that the students sit apart from each other while having food. We also ensure that they wash their hands before and after having food."
He adds that they have also been spraying disinfectants at their premises, regularly.
In addition, he says that they allow visitors only after they wash their hands/legs with a soap solution. Visitors are also required to undergo mandatory temperature checks. "We also note their details like name, address and phone number, as a precautionary measure."