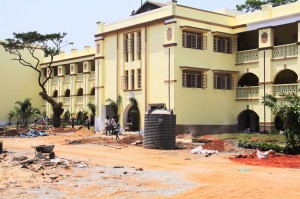 Old Bedeans Association (OBA) will have its annual meet-up for the alumni on a date that remains the same every year – January 26.
But this time the OBA meet for all 'old students ' of St. Bedes Anglo Indian Hr Sec School, San Thome will wholly virtual due to the prevailing pandemic situation.
The meet will be conducted via Google Meet ( log on to – meet.google.com/ tuq-gbnp-naz, 11 am to 12 noon only.
The organisers have asked alumni not to visit the school which will remain closed.
This is the 96th edition of the OBA AGM and was also to be the year of elections but there has been some debate on the need to extend the term of the OBA team for a year since elections online will not be feasible now.
The former staff and teachers of the school are also invited to connect at this meet.
Photo used here is of the CBSE school complex on the campus