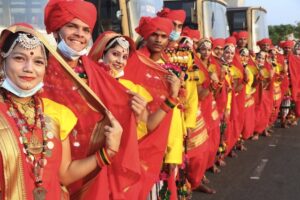 There was a lot of colour, music, dance and bravado on show on the Marina road this morning as Day two of the rehearsal for the Republic Day parade due on January 26 morning unfolded.
A few cultural troupes from various states, dressed in their finest traditional attire and some holding up music instruments stepped on to the road from the service road side and got themselves in order for the R-Day show.
There were also some displays by police and commandos and Indian Army personnel that gave the few onlookers and beach walkers a feel of the parade.
A helicopter did a recce above.
The final rehearsal is on Sunday morning, 6 am onwards.
News that came in later today said the state advised people to stay at home and not be at the event due to pandemic regulations.