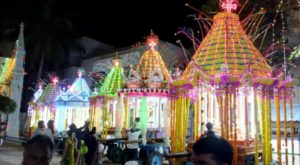 The annual feast of saint Lazarus will be celebrated at Our Lady of Guidance Church at R. A. Puram, also known as Lazarus Church on January 30 and 31.
This feast is usually celebrated on the last Saturday and Sunday of January each year.
The celebrations will begin with the hoisting of the flag on Thursday, the 21st of January. The Mass will be celebrated by Rev. Fr. Joe Arun at 5.15 p.m.  There will be Masses at 6 a.m every morning and novena Masses every evening at 6.15 p.m from the 22nd to the 29th.
On January 30, the Mass will be at 5 15 pm followed by a procession of the cars through the neighbourhood.
On January 31, the Mass timings are 6.am. 7.30 a.m , 10.30 a.m  and all of these will be in Thamizh. The 9.15 a.m Mass will be in English. In the evening at 5.15 p.m, there will be Mass in Thamizh followed by lowering of the flag.
This year the celebrations will be low key due to the pandemic regulations that govern such community events.
Photo used here was of a previous feast's car procession
– Report by Juliana Sridhar