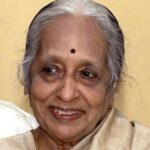 The Mylapore connection of Dr. V. Shantha, renowned oncologist and head of the Cancer Institute in Chennai who passed away on Jan.19 was a long-standing one.
Journalist and arts activist V. R. Devika who knew the doctor well says Dr Shantha's family used to live near Children's Garden School off Dr. Radhakrishnan Salai and later moved to Adyar.
She passed the SSLC course in 1940 from Lady Sivaswami Ayyar Girls School in Mylapore. In interviews, the doctor has been quoted saying that in her time while the families of most young girls chose marriage and settled down in life, she chose to study and her focus was medicine.
In her time, middle class families who were keen to see girls in school sent them to Lady Sivaswami which was founded and built up for the core purpose of educating girls.
Kalpana Siva, alumnae and staff of Queen Mary's College says that the doctor went on to do her Intermediate at Queen Mary's College, Mylapore.
Alumnae of the school have been posting their condolences and tributes to a woman who studied at this school and had a remarkable life.
At the school's 150th year celebration, held in August 2018 at R R Sabha auditorium and with union finance minister Nirmala Seetharaman the chief guest, Dr Shantha was a special guest on stage and even spoke a few words.