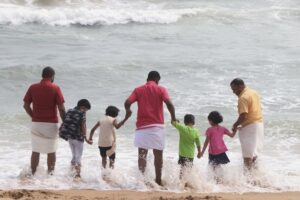 As the sun came out on the first morning of the new year, 2021 Marina beach welcomed a stream of families to its sands.
Families who were dressed in their festival best, many who seem to have first been to their favourite temples to pray this morning and then, headed to the Marina sands to let themselves for some fresh air and fun.
On the seashore, lots of children were seen enjoying themselves – some building sand castles, some running over and some led into the water by their guardians.
Police posted on the Marina and the roads off it had kept people away from congregating here the previous night for celebrations and they were at their posts till about 2 a.m.
Now, the new day was for families to enjoy what is their favourite destination.