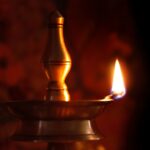 After a gap of over nine months, devotees at Sri Kapaleeswarar Temple will be able to have darshan of the artha jaama abhisekam at 9pm from today, January 1.
As per the new relaxations announced by the TN Government yesterday, temples will be open from today as per normal timings that were in vogue before the lockdown restrictions came into effect in March last year.
With this relaxation, the devotees will be able to witness the abhisekam for lord Kapaleeswarar at 9pm every evening  from today January 1. Confirming this to Mylapore Times, temple executive and Jt. Commissioner Kaveri said that the devotees will be able to stay inside the temple till 9.30pm from today.
The temple's final pooja for the day, the Artha Jaama Pooja, starts at 9pm with a milk abhisekam for lord Kapaleeswarar and the pooja process in Karpagambal sannidhi and Singaravelar sannidhi that includes recital by the Othuvar goes on till about 9.30pm.
It may be recalled that once some of the lockdown restrictions were lifted in temples in September last year, the devotees were allowed inside the temple to have darshan but had to leave the temple complex by 8pm.
– Report by S. Prabhu