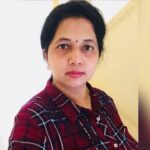 Academic adviser and education consultant Sudha Mahesh, a resident of MRC Nagar has recently published her second book called ' A 360 degree – Amplify the Cause and Effect'.
It is self-published through Notion Press.
Says Sudha, "The purpose of a school is to go beyond just academic excellence. The content has come from my own experiences and observations as a teacher and academician."
The focus is on educational leadership and school management touching on student life experiences and with the objectives of creating a great learning environment for students in schools.
In 2018, Sudha published her first book for the teaching community.
The new book is available on Notion-press publication  online store, and on Amazon.in and on Flipkart too. Soon it will also be as e book and audio book on Google Play.
Sudha's contact – sudhamahesh97@gmail.com