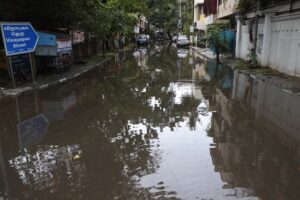 There are streets in Mylapore zone that get flooded after a good spell of rain. And this has been the case year on year; because only stop-gap solutions are fixed here to address the issue for the moment.
Take the case of Rangaiah Gardens, Nagarathinammal Street and Indrani Ammal Street in the zone off Vivekananda College, Mylapore.
Residents here say that when rainwater floods the main P. S. Sivaswami Salai, the excess water flows into these streets that run off from the main road. This leads to water stagnation. Says C A Mahalakshmi, "The rainwater runs off into these smaller streets and we suffer the mess."
Piece-meal solutions have also been found to fix similar problems in Thiruvengadam Street in R A Puram.  The street flooded again after yesterday's rain. Last year end, during the monsoon sewage mixed up with the rainwater and entered a few houses too. It took days for local civic officials to fix the issue.
Same is the case with Vinayagam Street, off Venugopal Vidyalaya school opposite the Mandaveli MRTS rail station. Flood water remains here for at least 24 hours. ( Photo here is of this street.)
(())  YOU CAN REPORT TO MYLAPORE TIMES local civic issues that badly affect local life. Mail a photo and a 4 line note to – mytimesedit@gmail.com