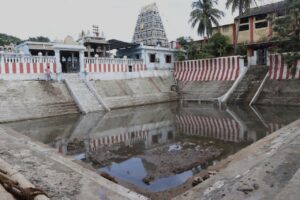 The efforts of the management of Sri Madhava Perumal Temple, Mylapore to pad the top layer of the temple tank's bed with clay soil is being some fruit.
In the recent rains, water has begun to stay on while in the past it would vanish in a matter of hours, sucked up by bore-wells that are laid in the colonies around this temple.
The work of redoing the bed was carries out a fortnight ago and a two-feet layer of clayey soil layered here. Now, says the temple officer, about one feet of water has accumulated.
Water also flows in from the many pipes that link in from the local streets.
The officer says that if the rains continue now, the tank will have good quantity of water and that the teppam fest due in March can be celebrated.