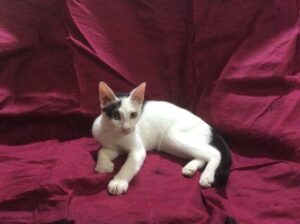 Malathi Xavier of San Thome has just lost her pet cat. And she requests San Thomites to alert her if they spot it.
She resides in Kangeyapuram near Papanasan Sivan Salai, a neighbourhood near the Police Quarters and Rosary Girls School.
Malathi says the cat is a 10 month-old male and is missing from yesterday evening. She says, "It was an abandoned cat that I brought up. It responds to the name 123."
If you reside in this part of San Thome and have seen this cat, ping 9445357217.