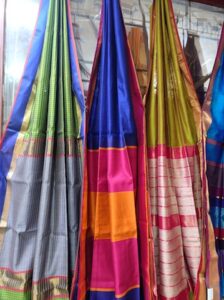 Mrignayanee boutique is  organizing a sale called 'Magic of Maheswar' which is a sale of handloom sarees and textiles from Maheswar, Madhya Pradesh.
Weavers from Maheswar, Madhya Pradesh directly sell their hand-woven items to customers through this sale.
The sale is on till January 24 at Mrignayanee, 180,Luz Church Road, Mylapore (in the complex adjacent to Navshakthi Vinayagar Temple). Ph: 94441 20027
The origin of the Maheshwari sarees dates back to the 18th century. The
designs in the Maheshwari sarees were inspired by the detailing on the walls of the fort of Maheshwar.
Hand block printed Chanderi/Maheswari sarees and dress materials, Tussar
sarees and materials, Cotton Batik/Bagh printed sarees are also on sale and discount is offered, says Mohan Das, manager, Mrignayanee.