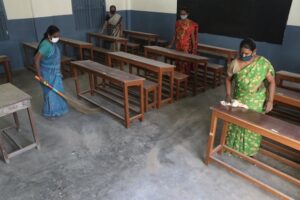 Schools in the Mylapore zone have set things in order to receive their students who study in Class 10 and Class 12 on Tuesday morning, when classes will formally resume after the long break for the pandemic.
This follows a state government order on a schedule for resumption of school classes.
At Lady Sivaswamy Ayyar Girls School in Mylapore while attendants swept the classrooms and reset the seating here, teachers went about preparing the record books for resumption of classes.
There has been a mixed response from parents of students on resumption of classes but since the focus is on preparing a set of students for the public exams, teachers feel many students will want to attend the classes right away.
Some school heads have said that unless revision classes are held now onwards, many of their students, mostly first generation learners will not fare well in the public exams.