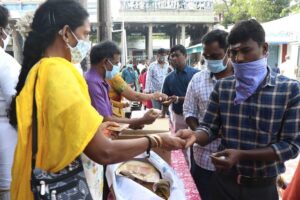 There has been a steady stream of people at Sri Kapali Temple since the temple opened on new year's day.
While most people prefered to join the general queue, many others paid for the Rs.100 special queue and got quicker access to the sannithi.
Everybody was asked to keep their masks on even inside the temple campus though social distancing was not observed.
Volunteers handed a simple laddoo as prasadam to people as they left the campus – the laddoos were prepared by the temple.
Other local temples have also had busy mornings with a steady flow of people dropping in to pray.