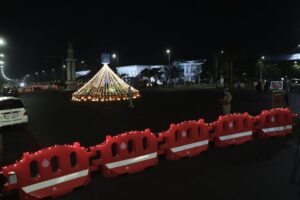 A strange silence hung all around one place in this part of the city that celebrates the coming of the new year in all gusto.
The roundabout at the P. Orr & Sons clock tower opposite Gandhi statue on the Marina was bathed in the lights of the illumination specially fixed for this occasion but there was not a soul around as the midnight hour ticked on December 31.
Police men had earlier barricaded the three roads that end here at the junction, allowing cars and bikes to move on. Nobody was allowed to congregate.
The offices of the headquarters of the Tamil Nadu Police on this road were bathed in its own illumination, stark against the darkness of a misty night.
A few devotees of lord Ayyappa walked down the pavement, headed to the temple in R. A. Puram.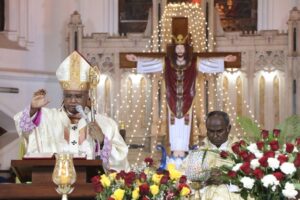 Earlier, at the Cathedral in San Thome, archbishop Rev. George Antonysamy had celebrated a bilingual Holy Mass indoors after an hour of adoration – the midnight Mass that attracts lots of families from here and from afar and is held in the open-air was cancelled.
Holy Mass was also celebrated early in other churches. At the church in Luz, families took time after the Mass to greet each other.
At the midnight hour, the sounds of bursting fire crackers was heard but few and far between.
Traffic had dropped on all the main roads of Mylapore, perhaps in keeping with the advice given by the police to avoid celebrations in public places.
At Sri Kapali Temple, as the hour to close the temple doors approached there were hardly any people inside.