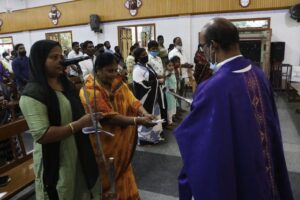 This was a simple, symbolic event in the church but it still reminded people that the pandemic is with us and we must follow some precautions.
Ash Wednesday, the first day of the Lenten season that Christians follow at this time of the year was observed today in all local churches.
At Our Lady of Visitation Church on St Mary's Road, the priest asked the faithful to present small packets of ash provided for them at the entrance and blessed them and asked people to apply the ash on their foreheads.
Normally, the priest applies the ash. But now, the person-to-person contact was avoided.