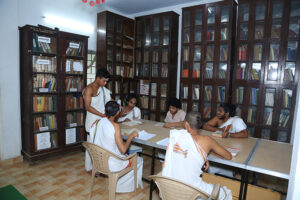 SANSKRIT; DIPLOMA, DEGREE COURSES
This is what is on offer for people who know Sanskrit at the basic level. At Madras Sanskrit College.
What basic levels of applicants can apply?
– Sanskrit in 12th Std. or a basic certification course in Sanskrit can apply. Should be 17 years or older.
What is the nature of these courses? 
Full time (towards a B.A. in Sanskrit) or part-time course (towards a diploma or certification in various topics in Sanskrit). New batches start every month, online.
Online or classroom?  How does it work? 
Digital campus has online classrooms and serves study material. Regular classes on hold now due to pandemic regulations.
     4. Any University recognised courses/ certificates? 
The college is affiliated to the University of Madras. Courses recognised.
Facilities students can use.
The library is open to students. Contains 25,000 books with some rare editions (some olai suvadi are also stored here). Auditoriums and Smart classrooms are also available. Cafeteria and hostel facilities are offered. But for now, these facilities are on hold.
Where to get more info?
Go to www.digital.madrassanskritcollege.edu.in / www.madrassanskritcollege.edu.in
Contact – Address: #84, Royapettah High Road, Mylapore. Phone: 044 – 2498 0421