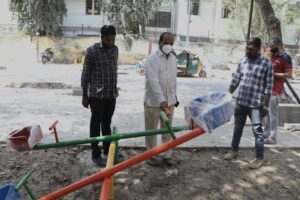 Mylapore MLA today inspected the works going on on Kalvi Varu Street that runs alongside the Buckingham Canal, Mylapore ( behind the Vidya Mandir campus' east side).
Nataraj has taken keen interest in this project since the GCC approved it but the Covid situation and the usual hiccups and drags has delayed this project which provides for wide sidewalks, smart street lighting designated parking, two-way vehicular movement and playthings in one end and an open-air space to exercise on one side that could discourage encroachers.
The contractor says 70% of the work is over. What is left is building a wall and fence alongside the Canal side and developing a small park at the Kutchery Road junction (west end).
What the project cannot tackle though is the scourge of mosquitoes that breed all year round in the dirty, stagnant waters of the Canal.
With his term as MLA coming to an end, the MLA has been keen to see a few projects he has backed be opened to the community.
Meanwhile, motorists are allowed to use the street; it was blocked for some piling work for a few days, the contractor said.