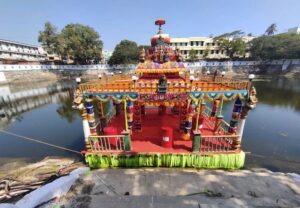 This was some neat work.
The team which worked on setting up the float for the teppam in the Chitrakulam set up all this in the hot sun on Tuesday, making it look simple and fluid.
But then, these workers are engaged to set up floats all over and decorate them and this job was small in many ways.
Now, the float stands very colourful and bright in the placid waters of the temple tank, waiting for the fest to roll on Feb.11, over 5 evenings. At the Adi Kesava Perumal Temple, Mylapore.