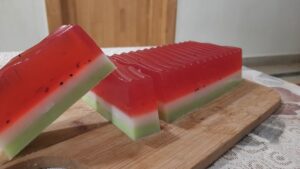 Bath Konceptz presents a Valentine's day gift hamper of handmade soaps, a foot care kit and homemade mint chocolates.
This comes from Tasneem K. who is based in San Thome.
She says this unisex hamper is made of sulfate and paraben-free ingredients which are safe for all skin types as it is made from pure essential oils and high quality fragrance oils.
The hamper priced at Rs. 1000 includes  lacto calamine, honey, aloe vera, menthol, turmeric-saffron in goats' milk, loofah soap and foot soak salts. Shipping charges as applicable.
Lip balms, foot soaks, oil serums and other soap varieties are also made on request. Prices start from Rs. 50 onwards depending on the weight and ingredients used.
Delivery is charged extra. MOQ for customised soaps is 4 pieces.
WhatsApp 9841610456 for more information and details.