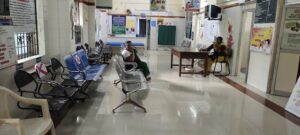 Chennai Corporation's senior health officer says all Public Health Centres (PHCs) in city areas will offer the vaccine jab to people 50 years plus who have co-morbidities from March 1 onwards.
The doctor told Mylapore Times on Friday morning that the modalities are still being discussed – if people can just walk-in to the PHCs, if they need to carry any medical records, etc.
The PHCs though are now being prepared for the process.
There are a few PHCs in Mylapore zone – one in San Thome's Appu Mudali Street and one in Alwarpet.
( Info on this process will be updated as and when locally-relevant info is received)