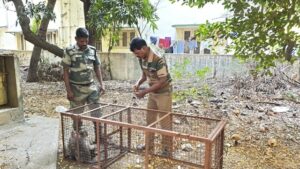 Monkeys who had a free run of the Abiramapuram / Alwarpet zone for some days now were trapped by a team of the Chennai division of the Forest Department.
Five monkeys had been enjoying themselves in the trees and sometimes, rampaged in a few apartments scaring senior residents.
A SOS call by resident Sanjay Pinto got the team faster to the spot; but it could trap only three of the five animals spotted.
"The rest will not get here now that some of them have been taken away by us," a Forest Dept. staffer told residents.
If you face this menace call 22200335. This is a 24×7 helpline but due to limited resources, the team will take about 2 /3 days to come to your aid unless the call is a SOS one.