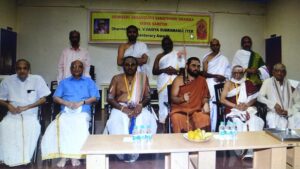 Sringeri Jagadguru Sanathana Dharma Vidya Samithi presented Dharmathma awards to four eminent vidwans Bhuvanagiri Anantha Sharma (Vedantham) Sengalipuram Mahagnicith Kesava Vajapeyar (Pravachanam), Thanjavur Srinivasa Sarma (Harikatha) and to Panchapagesa Bhagavathar
(Namasankeerthanam).
This event as held recently at Sringeri Pravachana Mandiram,
Swami Vidyashankara Saraswathy, Sri Vidyanarasimha Ashram, Nerur presided and presented the awards. The awards carried a purse of Rs.
25000 each and a gold medal.
Grants of Rs. 10000  each were given to five Veda pandits
Harihara Subramanian, R. Srinivasa Sastry of Tirupathi,
Narayana Sastry Shankara sastrigal and V. Balaji Dvivedi.
Vedanta student Suresh Krishna was extended a scholarship
of Rs. 15000 as well.
Earlier, Raja Annamalaipuram Bhakta Jana Sabha president A. Ramji welcomed the guests, spoke on the noted philanthropist and founder Dharmathma Dr. V. Vaidyasubramania Iyer who instituted these awards.
Office-bearers of the Samithi,  V. Vaidyanathan and
V. Jayaraman were present.
Report  by D. S. Rajagopalan