---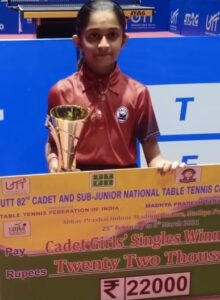 This year's table tennis national champion in cadets is 11-year-old Mylaporean Hansini M. S
he won the cadet girls' title at the UTT-82nd National championship held at Indore.
A student of P. S. Senior Secondary School, she has shown great potential and progress 
over the years under the coaching of A. Srinivasa Rao (NIS coach, Dronacharya awardee), 
A. Muralidhara Rao (coach, Team India), and Meenakshi Ganesh (state coach). They are seen in the second photo.
Having 
started training only four years ago at the Mylapore Sports Trust (MST), and then at SDAT – AKG Table Tennis Development Centre at Jawaharlal Nehru stadium, Hansini has already shown a meteoritic rise in the sport.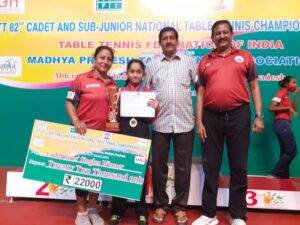 She won a bronze for India at her first international tournament at the 2020 
International Table Tennis Federation World junior circuit, Swedish junior and cadet open 
tournament, held in Orebro, in the under 13 (mini-cadet) category. She faced paddlers from 
over 36 countries. 
Hansini resides in Lakshmi Apartments, 4th Street, Abiramapuram