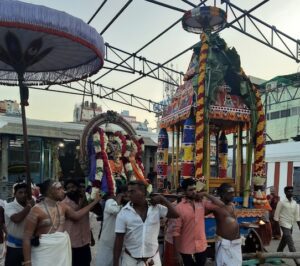 oIt is the morning of the chariot procession at the 2020 Brahmotsavan at Sri Kapali Temple.
It is 530am and the temple is abuzz with kula deivam devotees pulling together milk packets ahead of the 1000 milk abhisekam at Kolavizhi Amman Temple, the sub temple and the 'Graama Devathai'.
This is an annual event ahead of that year's Brahmotsavam (2021).
Meanwhile the priests have been up early. They began the alankaram of the Lord shortly after 3 am, ahead of the chariot festival, this time celebrated inside the temple.
On the dot of 630am, after the deepa aaradhanai, the Lord made his way out of the mandapam in the pallakku, to the beating of the drums and the adiyars' blowing of the coach.
What looked like only a small crowd at 6.15am had added up in numbers by 645am when the Lord was ready to mount on to the siriya Thiru Ther after panchasana panchadharana pooja.
By this time hundreds of devotees who had gathered at the eastern entrance got a bit excited on finding a cat right atop the chariot trying it's hardest to unshackle itself and come down the chariot.
Thankfully, with the help of the service personnel the cat was freed on to the prakaram and the swami made his way around the parakara on the small chariot amidst chanting of Kapali's name by devotees.
Report and photo by S. Prabhu