A large part of the street processions over the first nine days of the Kapaleeswarar Panguni Brahmotsavam had been to the loud drum beats as well as the musical accompaniments of the Nagaswaram and Tavil.
Sunday night was different in more ways than one at the final street procession of the Panguni utsavam.
While the temple complex was packed during the Thiru Kalyana Utsavam at the specially decorated Thiru Kalyana mandapam with not an inch to move anywhere, there was a quiet calm around the Mada Streets late into the night.
It almost seemed that those who stayed back were stunned at watching the great Ravana carrying Sri Kapaleeswarar in a majestic procession around the four Mada Streets.
Legend has it that Nandi stopped Ravana from flying over Kailasa as it was the sole abode of Shiva and Parvathi. When an angry Ravana tried to lift Mount Kailasa, Shiva placed his big toe on him and he lay crushed under the mountain. An ever ardent devotee of Shiva, Ravana sang verses in praise of the Lord. Pleased with his prayers, Shiva and Parvathi are said to have provided darshan to him from atop the Mount Kailasa and showered him with boons.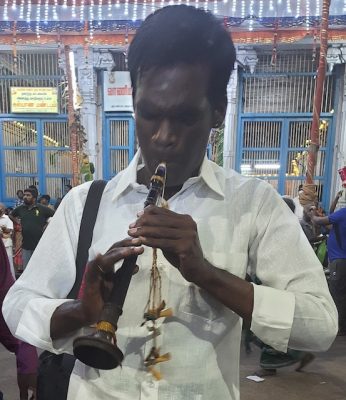 Temple head priest E Venkatasubramanian Shivachariar told Mylapore Times that typically the procession following the Thiru Kalyanam is a grand one in most temples but here at the Panguni Utsavam it is a 'soft' procession.
"There are no drums and loud music as one would have seen on the previous evenings of the utsavams. With Ravana carrying Kapaleeswarar, his favourite instrument 'Veena' is played out as the only musical instrument of the procession."
"This procession is considered a particularly sacred one for following the celestial wedding, Kapaleeswarar and Karpagambal are believed to provide a 'Thiru Kailaya' darshan."
As Kapaleeswarar and Karpagambal made their way out of the raja gopuram just after 10.30pm on Sunday night, they were led in the front by a sole artiste playing the 'Mukha Veena'.
A majority of the devotees  that witnessed the Thiru Kalyanam had dispersed. The vendors on the streets who made big business on this day were seen with happy faces even as they were winding up.  And most of the shops had shut down. It was easily the  quietest procession of the Utsavam with select devotees enjoying the devotional rendering on the 'Mukha Veena'.
After a two and a half hour procession, Kapaleeswarar entered the gopura vaasal at 1am, and shortly after, the curtains came down on the Panguni utsavam with a very tired looking Venkatasubramanain Shivachariar performing the sacred ritual.