Kalvi Varu Street, which runs along the Buckingham Canal behind Vidya Mandir school is getting a splash of colour.
The wall that has been constructed on the banks of the Canal as part of the street redesign and construction, long delayed was painted by a group of volunteers motivated by the NGO, Karam Korpom led by founder Sivakumar.
The wall will sport images that are local, like life as it used to be on the Canal, local personalities and Nature. One teen was seen taking. a selfie with a colourfully painted butterfly as backdrop here.
This art wall forms part of the widened pavement and sports a children's play area and a gym for adults. A small park is due to come up at the Kutchery Road junction.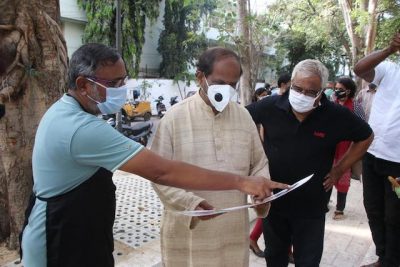 Mylapore MLA R. Nataraj, who has backed this project dropped by today to take a look at progress here. Nataraj has said that he would like to see this design and look implemented all along the Canal till the Adyar river point.
But little has been done to clean the polluted water of the Canal and mosquitoes thrive.
Another major issue that a new ML:A will have to address is to clear all encroaching huts on the east side of the Canal and resettle the residents locally if some order has to be really be seen in this area. People also dump waste into the Canal over the bridge.