It is noontime of lockdown hours on Friday.  But it does not apply to these four people working under a shed alongside the MRTS rail station of Mandaveli. and at a job they have bene doing for some tine
These four are at their daily post and  they have been at for some time now – converting vegetable waste into manure.
It is a little project of the civic body.  Urbaser Sumeet staff of  this zone dump vegetable waste collected in this area, as well as plastic in a corner of this shed. The four separate the stuff and get to work – two women sift through the rotting tomatoes, cauliflower leaves and greens and chop them into small pieces.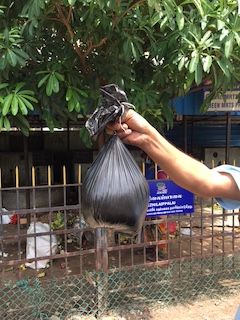 Another dumps it into cement tanks. Over 45 days it will urn into rot into some form of compost. It may need another 10 days to turn into real manure.
This manure is for sale here – Rs.20 for a kilo.