The stretch of Canal Bank Road from the junction of R A Puram First Cross Street measuring to a length of 140 feet was the most misused spot here.
Scrapped cars and autos were dumped here with accumulated garbage underneath.  Passersby were also using the space for relieving themselves and the stink made people double off.
R A Puram Residents Association (RAPRA) , decided to beautify this space with the help of a NGO, Karam Korpom, a foundation headed by the duo Uma and Shiv who paint public walls.
Prior to this effort, the street was fully cleaned with the help of Urbaser civic staff and sanitized with the aid of GCC health officials.    The canal wall was painted with three coats of white.
On Sunday, Sept.5, with the help of police, the parked vehicles were removed and volunteers drew beautiful pictures on the wall.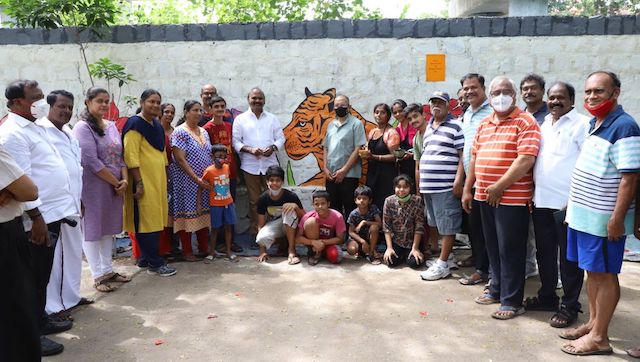 Mylapore MLA Dha. Velu too dropped by and tried his hand at painting.  He appreciated the efforts of RAPA in beautifying this spot and assured of his help for any issues faced by the residents. About 30 children from Mylapore and R A Puram joined in the painting.
RAPRA has turned many such ugly spots into pleasant spaces.
This report was based on inputs from RAPRA.