When we hear the word 'Physical Training' the image that usually runs across our minds is a strict PT master with a long stick in his hand, standing in the middle of a playground and giving instructions on top of his voice.
But for a school student, the physical training period is not only an opportunity to play outdoor games but also a break from the back to back academic routine. No wonder a generation of Vidya Mandir students all loved the PT periods in the old days.
Vimala Sivaraman, affectionately referred to as Vimala Miss served as a PT teacher at Vidya Mandir school in Mylapore from 1969 till 1994.
She completed her schooling in St. Mary's Girls High School, Chengelput and did her teacher's training course at Government College in Tanjore. She then got her Physical Education degree from YMCA, Saidapet, Chennai in 1950 – '51
She is one of the very few women who had taken physical training as a career during this era. With a sweet smile as her constant accessory, this 86 year old legend portrays extreme confidence and positivity to everyone around her. Today, she is always on time for her morning and evening walks around her residential block in Mylapore.
 Here is a conversation I had with her –
Tell us about yourself . . .
I was born and brought up in Tanjore, Tamil Nadu. I moved to Chennai after my marriage in 1959. My husband is 91 years old and worked for Life Insurance Corporation. We have two daughters, one in Chennai and another abroad.
Tell us about your tenure in Vidya Mandir
I worked there as a PT teacher for 25 years and till date I think about the school days and cherish those times. My role was to train the girls for matches like volleyball, track events and other sports. I used to take them for inter-school sports competitions. Till date, every time different batches of Vidya Mandir alumni have their 25 years jubilee re-union, they make sure to arrange for my pick up/drop and so sweetly gift me with mementos.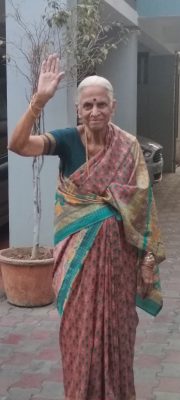 How did you get to choose Physical Training as a career?
You see, the state government had deputed me as Physical Trainer in Vidya Mandir. I was a state player in volleyball. At that time, two girls were to be chosen to be trained by the state government and then be given a job at schools as Physical Trainers. I and another girl from Chidambaram were selected for this. They trained us for a month and then gave us the job.
You are said to be kind, healthy and confident: What is your secret?
Hahaha, there is no secret as such.. But I will proudly say something. I never fall sick. No headache. No fever No cold; I had always followed an active lifestyle. Even while I was working, I used to go for long walks with my husband. And I had my interests in various things to keep my life busy as well as interesting. I listen to lots of music with my husband, we go to the sabhas and enjoy the concert sessions there. I can never sit idle.
Your message to all the women out there . . .
I wouldn't call it as advice but I have two small suggestions from my side:
1. Have a special interest in maintaining an active lifestyle. The woman is the driver who steers the family, if the driver wishes, the family can go a long way in maintaining a healthy lifestyle.
2. Participate! Attend family functions, general social events, meet friends. Do not get carried away by your routine life and miss these events. You may never know how important it is to stay in constant touch with friends, family and community. Office work or house work, it will always be there. Learn to create time for these gatherings. You will see yourself like a completely refreshed soul ready to offer her best-self to the family and to society!
– The family's address – Kauveri 2A, GRN Jeevan Bhima Enclave, Rajasekaran Street (opposite CSI Kalyani Hospital on Dr. R K Salai) , Mylapore. Phone – 28472242. 
(( ))) SHARE your own memory of Vimala Miss in 6/7 lines. Mail – mytimesedit@gamil.com